We are still open!
Please rest assured that we are continuing to operate during our normal business hours. We have plenty of stock of all your faves and essentials. Also a reminder that you can shop online for most of our in-store items (excluding perishables) and in-store pickup is also available. Please give us a call if you'd like to arrange an order with perishables.
In brighter news, we are excited to be nominated again for the Local Business Awards 2021. We'd love if you could take a minute and vote for us by clicking here!
Thank you so much beautiful friend for your continual love and support 🙏❤️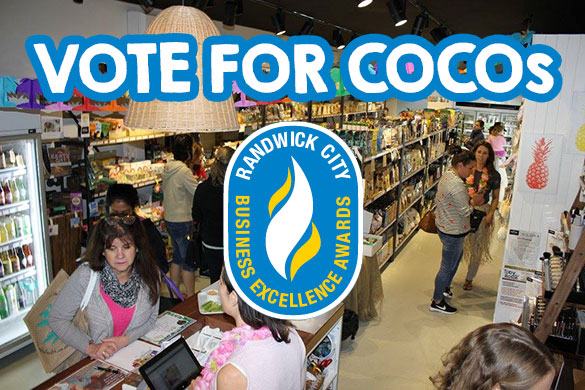 ‍Official Introduction to Nina!

 


This introduction comes a tad late as Nina has been working with us since the end of December, but nonetheless here goes! Nina identifies as an old hippy from Mullumbimby, having previously lived there for a number of years, she also worked at Santos Organics (which I am sure a lot of you who have travelled that way are familiar with). She is a Maroubra local and you might have seen her out and about at the beach.




When she is not working at Coco's she loves looking after her grandchildren, drawing, and she has a big interest in protecting the environment.




Currently her favourite product at Coco's is the Koja Peanut Caramel Bar!
‍Her favourite quote is "imagine what you want to happen, not what you don't want to happen".
The Wholesome Pod
Cornetto Cake

Naked Bakery

Biscuit Bars

Gloriously Free


Organic Oat Flour
Sweet River

Raw Hawkesbury Honey
Harvest Garden

Facial Clay Masques

 Honest To Goodness

Coconut Whipping Cream
Chow Cacao


Choc Peanut & Hazelnut Spreads

Pana Organic

Golden Comb & Peanut Caramel Bars

Food To Nourish


Collagen Cookies (New flavours)

Copyright © 2014-2021 Coco's Wealth of Health, All rights reserved.
Coco's Wealth of Health sends product and deal information to loyalty customers and newsletter subscribers.
936 Anzac Parade
Maroubra NSW 2035
02 9349 4689
www.wealthofhealth.com.au